DC's Legends of Tomorrow Season 1 Episode 12
Follow @GostreamsT
Dear users, if the Movie/Episode does not load, please try Refresh few times. If it still get error please try our Alternative Server by clicking the Three Dash Button in the Left Top of Player or Scroll down to select Server 2 below Player. Happy watching!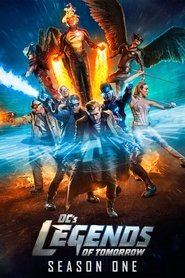 DC's Legends of Tomorrow Season 1 Episode 12
The team is targeted by The Pilgrim, a deadly assassin who wants to erase the Legends from the timeline by killing their younger, non-superhero selves. As a protective countermeasure, Rip decides Sara, Snart, Rory, Professor Stein and Jax need to kidnap their past selves first before The Pilgrim gets to them. Coming face-to-face with the younger versions of themselves proves to be both a physical and emotional challenge for certain members of the team who would rather forget their past. Rip tells them he has a refuge for their precious cargo – an orphanage that raises future Time Masters and where he himself grew up.
Episode Title: Last Refuge
Air Date: 2016-04-21
Year: 2016