DC's Legends of Tomorrow Season 1 Episode 8
Follow @GostreamsT
Dear users, if the Movie/Episode does not load, please try Refresh few times. If it still get error please try our Alternative Server by clicking the Three Dash Button in the Left Top of Player or Scroll down to select Server 2 below Player. Happy watching!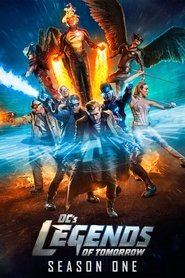 DC's Legends of Tomorrow Season 1 Episode 8
The team tracks Savage to a small town in Oregon during the 1950s. Upon arrival, they discover there have been a recent string of murders and they suspect Savage is involved. Professor Stein and Sara go undercover at a psychiatric hospital, where Savage is working as a doctor, to find out his plan. While there, Sara meets a nurse named Lindsay and sparks fly. Meanwhile, Ray and Kendra pretend to be a married couple to gain the neighborhood's trust, but an interracial couple in the '50s isn't something that goes unnoticed. Soon, Savage is at their door.
Episode Title: Night of The Hawk
Air Date: 2016-03-10
Year: 2016